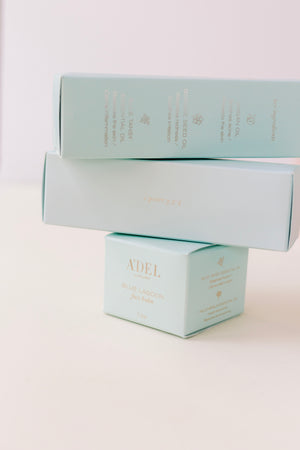 Biggest Sale of the year extended today only!
Welcome to A'del
A'del produces cosmetics that are free of the 1000's of toxins readily found in conventional mass-market beauty and even some of the "natural" brands.
Cream Foundation - 01

Loose Foundation - 00

Cream Blush - Pink Melon

Lipstick - Southern Belle

Loose Powder Foundation - 04

Lipstick - Berry
Cream Foundation - 03

Loose Foundation - 06

Cream Blush - Rose Petal
Yes! Our products are formulated (by Arlene) and hand made by our team! There is one exception: we teamed up with a fantastic formulator to make our amazing mascara with A'del approved ingredients! It is made in the USA.
Yes, generally they are. All of our color cosmetics are extremely safe and some of the purest on the market. The only question is with the essential oils and pregnancy. (And to be perfectly honest synthetic fragrances can do a lot of harm…And synthetic fragrances are in a lot of so called natural products!)
But I ALWAYS want people to ask their health care providers as many of them have differing opinions on essential oils. Blue tansy would be the only essential oil I would want pregnant women to be cautious with early in the pregnancy.  But even with saying that we have had many pregnant women use it with no problem. As mentioned, talk to your health care provider with any questions or concerns you may have.
LOTION BARS!
The eczema healing we have witnessed with our lotion bars is simply incredible! 
If your skin is normal to dry or if you have maturing skin purchase the essential set. If your skin is normal to oily with sensitivities and acne purchase blue lagoon set.
We are and have been looking into titanium dioxide as well as all of our ingredients. In the past the greatest concern with titanium dioxide has been the nano-particles and the inhaling of them but we have always sought out non nano titanium dioxide which has been considered a safe option for cosmetics as the inhaling of those particles are too large to penetrate the lungs. Non nano titanium dioxide is all we use in our products. According to the EWG (Environmental Working Group) with current and up to date website information, titanium dioxide has a safety rating for cosmetics of 1-3, with 3 being for powder or spray form and that is for nano particles. The EWG adds that Titanium Dioxide has low penetration which makes it good for skin use as it won't soak into it like so many other ingredients will.
With the most recent opinion concerning the internal consumption of titanium dioxide in candy and pharmaceuticals there is now concern over anything that might be consumed. In the countries where it has been banned it has not been banned for cosmetic use.
We desire to be critical thinkers with the barrage of opinions and rapidly changing information being thrown at us regularly and to sift through it slowly and thoughtfully but with an open mind knowing better research may be uncovered and adjustments may then need to be made.